Intellectual Poet
By Fiza Pathan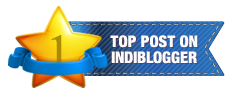 The worldly ones will never know, what it means to be in love with an intellectual poet.
It's hard to please the romantic soul with my naive pleasantries.
He cannot be understood and his world is not his own; but in one meeting the season has lost its spring for me.
His smile is like a breath of summer, and he sings to the nymphs of old to make them smile and drown in his vacant thoughts about the cosmos.
Materialism is not his food, while for me his words of kindness to me, are sugared with the extracted honey of the love birds cooing.
Every time he plays his guitar, I relish the tune in the sunset of my weary mind, which is hell bound without his caring gaze.
What will the mundane ones know, why I sing to the flowers in their bed, and sleep the afternoons into tender dreams of my heart filled quest.
My strong willed poet does not look at me with his dove like gazes of love, but that does not indicate that I love him less.
The seasons have learnt to sing, to the tune of the satyr playing the flute of adoration.
I've fallen in love with the poet of fine words and few sentences.
Copyright © 2014 by Fiza Pathan
Image courtesy: http://www.morguefile.com/archive/display/889398 
IMG_5705-3.jpgBy erdenebayar