Old Love Follows The Lover
By Fiza Pathan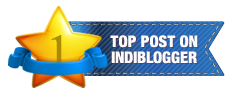 I've fallen in love with the prince of verse, and we pen our words together on the parchment of our young lives.
But even in the dark nights of the poet's fantasy, when I'm in his arms-I still see your face, the face of old love.
Old love will not leave me be, to ink my cauldron of magical words with happiness and gaiety.
Old love is ruining my loving stanzas to my present lover, just like the sun is marred with black dots of old flame.
Still I carry on my search for perfect happiness in my poems, like a wild stag in search of the crystal water clear to quench his thirst.
Love is alive and waiting for recognition, which I do not wish to give it.
Let it decompose into dust, so that I can feel its coarseness with my fingers, and then forget its old sting.
So dearest poet in verse, I hide from you my old love, which has wounded my shadows as well as my reflections.
Still if you wish that I should be yours-I plead with you to carry me into your bold thoughts and shun away my darkness with your strong hand.
For old love follows me close, even till the end of thought, emotions, destiny and blood.
Copyright © 2014 by Fiza Pathan
Image Courtesy: http://www.morguefile.com/archive/display/618998
P8020083.JPGBy mzacha