Rainbow Dreams
By Fiza Pathan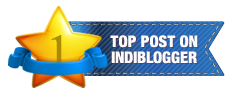 There is a rainbow in the sky
With colours of seven to break up my shadow world.
For my terrain is the land of dead hopes
And a lost love of long ago.
This rainbow taunts my sadness
And brings to light all my regrets.
A heart broken by the temptations of the mundane ones
Cannot bear the sevenfold radiance into ones breast.
Get away from me septime serpent
As beautiful as the gold at the end of your tail.
Begone and leave me in solitude
To gnash my teeth and rave about shattered dreams.
But the snake-like colourful one
Does not leave me in my sorrow.
It lightens up my hopes.
And fills my heart with a writer's bliss.
Hear me you sky god
That trims the rainbow to fit my life.
Hear me you clouds
That dress up the rainbow
With white shades of fluff
So soft to touch.
Hear me my lover
That as long as there be
Rainbows in the heavens
My love for you shall live on
In shades of seven.
Copyright © 2014 by Fiza Pathan
Image courtesy: http://www.morguefile.com/archive/display/638646
Photo 009.jpgBy RoganJosh