The Intoxicated Lover
By Fiza Pathan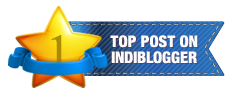 What has covered my eyes with this haze like fog? Who is my master and who is my lover?
Remember deceiver of women, that the art of love is very grave for your liking-it kills for blood, it hunts for truth, and it remains till one lies buried in the tomb.
I have forgotten my name as well as my lover's name-opium has had its effect in painful measures, drop by drop.
But I've not forgotten that the rose in its redness has cut me with a thorn, and the pain throbbed within my chest for eternity and evermore.
My heart has been broken a thousand times, in the maze of the drink of high doses of alcohol-but all my lovers kept leaving me till I was alone in the twilight.
So in that dusky hour, the opiate I had to taste and the paleness of the night, ended in a bottle of wine left to drink away my delusions about my admirers.
Painful are the days I spent in silence contemplating my loss, with a thread of thick blood oozing from my mouth's side.
But no one has pity on me-taunting's for the broken hearted are usual courtesies and my lovers decision to leave me has made my heart lose its happy spirited blood.
Now I'm great to have as company, in the land of intoxicating hallucinations and graveyard bones, for no one loves my verses anymore.
My stanzas have led me to my downfall so painful, the fall was far but the wounds were so near.
Copyright © 2014 by Fiza Pathan
Image Courtesy: http://www.morguefile.com/archive/display/35776
(image for representative purpose only)
Photo By anitapeppers